Flash News
Contact for your reservation in the coming Seminar/Workshop for one day on Email/Mobile.
Reviews / Recommondation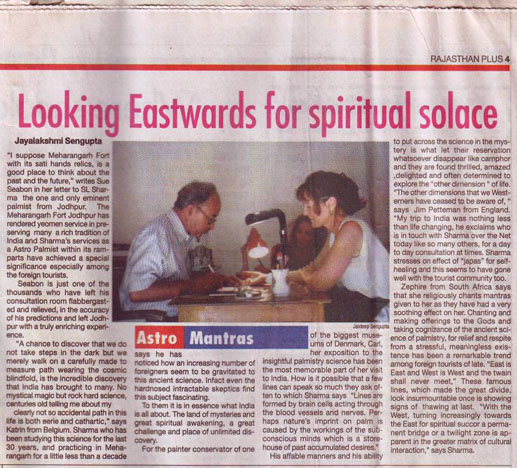 Times of india article
"I suppose Mehrangarh Fort with its sati hands relics, is a good palce to think about the past and the future," writes Sue Seabon in her letter to SL Sharma the one and only eminent from Jodhpur. The Mehrangarh fort Jodhpur has rendered yeomen service in preserving many as rich tradition of Indiaand Sharma's services as a Astro Palmist within its ramparts as achieved a specially significance especially among the foreign tourists.
Seobon is just one of the thousands who have left his consultation room flabbergasted and relieved, in the accuracy of his predictions and left jodhpur with a truly enriching experiance.
"A chance to discover that we do not take steps in the dark but we merely on a carefully made to measure path wearing the cosmic blindfold, is the incredible discovery that india has brought to many. No mystical magic but rock hard science, centuries old telling me about my clearly not so accidental path in this life is both eerie and cathratic," says Katrin from Belgium. Sharma who has been studying this science for last 30 years, and practicing in Mehrangarh for a little less than a decade say he has noticed how an increasing number of foreigners seem to be gravitated to this ancient science. Infact even the hardnosed intractable skaptics find this subject fascinating.
To them it is in essence what india is all about. The land of mysteries great spritual awakening, a great challenge and place of unlimited discovery.
For the painter conservator of onr of the biggest museums of Denmark, Carl, her exposition to the insightful palmistry science has been the most memorable part of her visi to india. How is it possible that a few lines can speak so much they ask often to which Sharma says "Lines are formed by brain cells acting through the blood vessels and nerves. Perhaps nature's imprint on palm is caused by the workings of the subconscious minds which is a storehouse of past accumulated desires."
His affable manners and his ability to put across the science in the mystrey is what let their reservation whatsoever disappear like camphor and they are found thrilled, amazed, delighted and often determined to explore the "other dimension" of life. "The other dimensions that we Westerners have ceased to aware of," says Jimm petterman from England. "My trip trip to india was nothing less than life changing, he exclaims who is in touch with Sharma over the Net today like so many others, for a day to day consultation at times. Sharma stresses on effect of "japas" for self healing and this seems to have gone well with the tourist community too.
Zephire from South Africa says that she religiously chants mantras given to her as they have had a very soothing effect on her. Chantings and making offerings to the Gods and taking cognizance of the ancient science of palmistry, for relief and respite from a stressful, meaningless exitence has been a remarkable trend among foreign tourists of late. "East is East and West is West and the twain shall never meet," These famous lines, which make the great divide, look insurmountable once is showing signs of thawing at last. "With the West, turing increasingly towards the East for spiritual succor a permanenet bridge or a twilight zone is apparent in the greater matrix of a cultural interaction," says Sharma.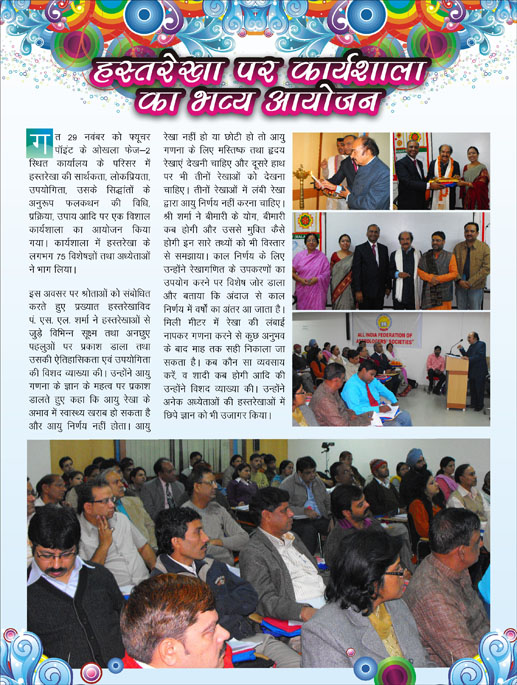 Workshop On Palmistry On 29th November 2009 at New Delhi